About Paphways Orchids
Paphways Orchids is located in Fieldbrook, California. We're located five hours North of San Francisco in Humboldt County, near the communities of Arcata and Eureka.
Our greenhouses and growing area are located on our five acres of paradise. We grow Paphiopedilums, Phalaenopsis, Cattleyas, Oncidiums, Cymbidiums and other fine orchid plants. We also grow Anthuriums to accompany our orchid collection.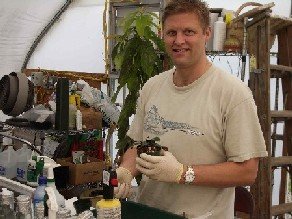 Joel Bollinger is the Proprietor of Paphways Orchids. He's been raising, breeding, and caring for orchids for over 30 years. He's involved in the American Orchid Society as well as some regional orchid societies.
Joel Bollinger, is also available for orchid education sessions and individual consulting.
Contact us at info@paphways.com or
at (707) 834-4836.